Get FIT
Minister Fitness Coach T explains Get FIT and how it will help renew your mind and change your life.
Minister Fitness Coach T explains Get FIT  and how it will help renew your mind and change your life.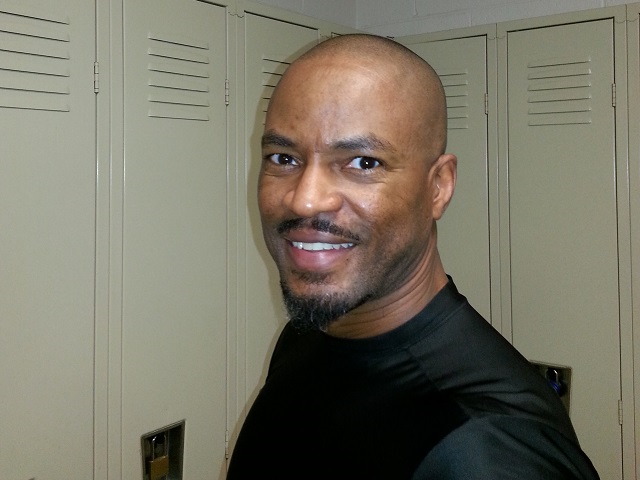 Image for Get FIT –
"Get FIT"
Minister Fitness and the Kingdom Fitness Academy actually originate from the phrase, "unfit for service" - a declaration  I encountered in my personal life. The painful impact of that declaration rippled through all areas of my life and lasted more than a decade.
God is using the pain I experienced, and using me to echo this call to His people (including you) to "Get FIT."
Many people only think of fitrnessin the physical sense - with diet and exercise as the main activities. However, God wants his people to see fitness in a different way.
I "see" it like this...
When I started losing my eyesight, I had to learn how to see everything differently. I had to learn how to use my peripheral vision as my primary way to see the world around me. This required a new way of thinking. I had to learn to trust my brain's amazing processing power in a new way. 
I struggled with everything.
God proved Himself strong.
When I wanted to quit, God gave me strength to stick with it and the resolve to never give up.
Each day, I kad to learn how to be deliberate in my actions. Every step and every reach I made had to be cautious and on purpose.
I had to learn humility in a way that opened me up to being able to ask for and receive help from others.
I am still learning as the challenges continue. I understand now that there is a "hidden" blessing in this experience. In learning to "live through loss" of my eyesight, I have gained VISION from God. Through the struggles I have encountered, God trained me in three critical qualities of fitness.
FIT = Faithful Intentional Teachable
My eyesight loss is a life change. Each day, I press through as  God trains me, moving me to Get FIT. 
Faithful - Consistent, Stick with it, Don't Quit! 
Intentional - Deliberate, On purpose, Move with purpose
Teachable - Humble, Eager to learn, Open
I see how God is moving me through this life-changing experience to "Get FIT" for His Kingdom. I also see how God is using me, evennow, to help others in The Body of Christ "Get FIT."
The result...Life Change
Minister Fitness is the result of the transformation I experienced through the renewing of my mind during my eyesight loss. 
Romans 12:2

New International Version (NIV)

Do not conform to the pattern of this world, but be transformed by the renewing of your mind. Then you will be able to test and approve what God's will is—his good, pleasing and perfect will.
God is transforming me and in the process, He gave me a bew way to think - even about losing my eyesight. So, when I say "Think FIT", I'm pointing back to Him When you see the change in my life, I'm pointing back to Him.
If you want life change, it starts with Him - the Almighty God, who has revealed himself in the person of Jesus, The Christ.
Thought Questions
1. Which points did you find most impactful? Why?
2. What did the Lord reveal to you through this message? (Did you gain a specific insight into your life or ministry? What challenged you? Were you convicted of sin?)
3. How were you encouraged through this message? How can you use what you've learned to encourage someone else—in your personal life, at work, or at church—and equip them as a disciple of Christ?
4. How, practically, can you implement what you heard from this message in your life and/or ministry today? What will you do differently this week because of what you've just heard?
5. If you're struggling with your physical health, take the initial step of going to the doctor for a check up. Find a member of your church who loves working out and partner up with them—go on a run, bike ride, or weight train together. Allow exercise to be a method of discipleship.
About Coach T
Visit TaurusJames.com to learn more about Minister Taurus James
Minister Fitness is part of the Kingdom Fitness Academy and Myel Ministries
Get FIT and Stay FIT!
Remember This:  
To be fit is to be of a suitable quality, standard, or type to meet the required purpose. It is not enough to say that you are fit. It is not enough to appear to be fit.
Fitness requires Faithful action.
Fitness requires Intentional action.
Fitness requires that you remain Teachable.
Are you fit?
This is a question I continue to ask myself. I never really feel like I am fit to be a minister for Christ, but I continue to trust that He is making me what He wants me to be. Nevertheless, I use this question to examine myself periodically going to God and asking Him if I am fit for His purpose
Share
Minister Fitness uses AddThis share buttons so you can easily share your favorite content from this site to your Facebook, Twitter, and more.
To share this content on social media, click on the share icons. You will be prompted to connect your social media account if you have not already.
Thank you for sharing!